Derek Armstrong
Derek Armstrong originally trained as a chef, but has been a florist, trading in Carlisle, for over 30 years. He has been a member of Interflora for the majority of that time. He lives in the nearby town of Penrith, on the end of the Lake District, still enjoying the challenges that flowers bring to a very busy schedule.
He has worked in Japan, USA, Ireland and all over the UK. Derek was one of the honoured demonstrators at the WAFA (World Association of Flower Arrangers) Show in Glasgow in 2002.
Also working with BBC and ITV on documentaries and period dramas, for example The Lady in Black, The Lakes by Jimmy McGovern and The History of Food. He was also part of the Interflora team that presented the Road Shows in 2003 with an open air concert at Knebworth for 15,000 people.
He still plays a very active part in the floral industry, assisting with photographic work, consultancy work for various companies and creating several events throughout the country for weddings and other special occasions.
Jonathan Moseley
Jonathan works as a freelance floral designer, based in Derbyshire. The world of flowers is a passion for him and he employs his love of nature and his garden as a focus for many of his designs. He has been a National Demonstrator for NAFAS since 1999. His humorous and friendly approach make him one of the UK's most popular demonstrators, guaranteed to thrill audiences with his amazing displays delivered with speed, efficiency and entertainment. Jonathan is the Floral Expert on BBC2's The Big Allotment Challenge and designs the annual Florabundance festival at the world renowned Chatsworth House where he also hosts demonstrations and workshops.
For further information visit www.jonathan-moseley.com Follow him on Twitter @jpmoseley and on Facebook
Tan Strong
Tan has loved flowers from an early age and now really delights in her work as a National Demonstrator, showing her affection and enthusiasm for all flowers and garden plant materials.
She lives in the Chiltern Hills just to the west of London so is ideally placed to travel to all areas throughout the UK and abroad. Always keen to encourage new commers to Floral Art she is currently training to be an Instructor and Adjudicator. At present she is Vice Chairman of the National Demonstrators' Committee.
She loves the camaraderie of competitive work and has won awards at many RHS and National Shows, including winning a Gold Medal at the Chelsea Flower Show in 2010. Tan has been a qualified Area Judge for many years and is currently studying to become a National Judge.
Tan is a National Speaker and her presentations tend to involve her experiences in the restaurant business where she used to work for the world renown Roux Brothers. She was also an airhostess and has many tales to tell of her years flying raound the world.
Tan enjoys sharing her knowledge and love of flowers with others and teaches classes locally, gives workshops and runs day courses from her home.
Her work has been published in The Flower Arranger and other magazines.
For more information please go to www.tanstrong.net
Janet James
Since qualifying as a National Demonstrator in 1988 Janet has demonstrated in all 21 Areas of NAFAS undertaking many Area events and also demonstrating at the NAFAS Assembly in Durham. She was honoured with performing one of the demonstrations at the National Show in Bournemouth in 2005.
Competitive work has always been a very important part of Janet's flower arranging year, particularly at the NAFAS National Show where she has twice been Runner Up to Best in Show. She was particularly proud to be part of the South Midlands Area team in 2001 when they won a Gold Medal on behalf of NAFAS at the Chelsea Flower Show.
Janet includes a variety of styles in her demonstrations often on a large scale, using garden plant material wherever possible.
She is also a Demonstrators' Adjudicator and Instructor and a National Judge.
Jayne Edmonds
Jayne has been a member of NAFAS since 1997. She enjoys travelling to give workshops and demonstrations all over the UK. She is a Teacher and Demonstrator and passed her National Demonstrators' Test in 2007. She is Chairman of Centrix Contemporary Design Group in the South Midlands Area.
Jayne has always been an artist and many of her designs continue to take their inspiration from decorative modern art. She enjoys competitions and her use of colour has caught the judges' eye on many occasions. Her exhibit at the National Show Telford in 2006 was awarded the 'NAFAS Colour Trophy and the 'WAFA Award'.
Her demonstration titles are : 'Threaded with Beauty'; 'Raindrops on Roses' and 'Spirit of Christmas'.
Andrew Grisewood
Andrew lives in a small village close to the heart of York and is a National Demonstrator. Andrew qualified in City & Guilds in flower arranging in 1989 and went on to pass his Area Test in 1990 and National Test in 1995.
Andrew's floral creations come to life in the most unique way that will leave you talking long after. His shows present an aura of sheer opulence, a dazzling show presenting the worlds most beautiful flowers in breath-taking designs, which include the incorporation of Swarovski crystals adorning spectacular containers.
His wealth of top engagements has taken him from National theatre venues through to stately homes and the most luxurious banqueting suites.
His inspiring arrangements take shape magically amidst hilarious stories of his life. Tales that will take you from The Ritz to Tiffany's, London to New York, afternoon tea with the ladies who lunch and all the stops in between. A glamorous life you will be part of throughout the show.
For any further information and a show preview visit Andrew on his website www.andrewgrisewood.com
Dr Christina Curtis
Dr. Christina Curtis is a NAFAS National Demonstrator (passed 2002), National Judge (passed 2009) and Area Teacher who lives in Beare Green, near Dorking, Surrey – part of the Surrey Hills, an Area of Outstanding Natural Beauty. She is the J.D.S. & E. Chairman for Surrey and a member of the National Demonstrators' Committee. Christina is currently training as an Adjudicator (Demonstrating). She passed her City & Guilds Parts 1 & 2 Creative Studies in Flower Arranging in 1993 and 1994 after beginning to arrange in Ashford Horticultural Society in 1991 and joining Staines Flower Arrangement Society. Christina took up Ikebana (Sogetsu) shortly afterwards in order to gain insight into European designing. She has passed the four Student Grade Certificates and has commenced the First Teachers' Grade.
Christina comes from a background in Plant Sciences with an Upper Second Class Honours Degree in Botany from Kings College, London and a PhD. in Plant Anatomy from Imperial College, London. As a student she worked closely with academics at the Natural History Museum and Royal Botanic Gardens, Kew. There is a copy of her thesis in the Library at Kew. At present, Christina is Botanical Consultant for The Flower Arranger Magazine and Flora International Magazine. She regularly contributes to these journals along with Insight and Surrey Area News. She has assisted Judith Blacklock with her books and in 2004 wrote The Handbook of Contemporary Floral Design for NAFAS in association with Daphne and John Vagg.
Christina is in demand as a tutor for contemporary workshops and also tutors Staines Horticultural Floral Art Group, her main Surrey Club. She also belongs to Southern Demonstrators' Group where she enjoys the hands-on activities and Forest (Horsham) Club in Sussex. Christina was Chairman of Staines Flower Arrangement Society for three years before moving to Beare Green in 2005. Christina has been active creating exhibition pieces over the years in a wide variety of venues including Hampton Court Palace, Kensington Palace, Kew and Wisley Gardens, Denbies Winery and local churches. She is a keen competitor winning many awards at Club, Area and National Level as well as at the World (WAFA) Show in Glasgow. Christina is fascinated by texture and techniques. She loves to incorporate all sorts of different materials into her designs and finds making her containers unique especially rewarding. She also enjoys encouraging arrangers of all levels to further their knowledge in a fun and friendly atmosphere.
Sandy Bailey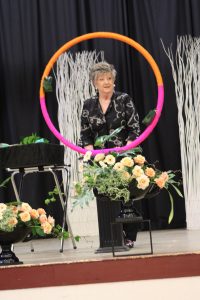 Sandy became a National Demonstrator in 2007 and has enjoyed visiting and creating exciting and fun filled Demonstrations in all 21 Areas of NAFAS.  Sandy has been invited to attend and demonstrate at many NAFAS Area days and on the occasion of special anniversaries. Sandy recently demonstrated at the NAFAS AGM in London.
Sandy tutors many workshops around the country using recycled products creating sculptured and contemporary designs. Sandy is a Nafas Area speaker and a keen competitor who has also visited WAFA shows in Glasgow, Boston, Ireland and Barbados and is looking forward to the coming Wafa show in Jaipur India in 2020.  Sandy has been a member of the National demonstrators commitee and is currently on the NAFAS board of Directors.