The Education Journal for flower arrangers produced by the NAFAS National Education Committee
Insight is produced three times a year and is full of inspiration, new ideas, hot tips, step by step designs, great book reviews, news and teaching updates, with articles supplied by the members.
You will not be disappointed and, whilst it is a must for those who teach, Insight is available to everyone whether they teach or not.
Subscriptions to Insight are great value for money. Subscription information is available from the NAFAS online shop or from your Area Education Representative.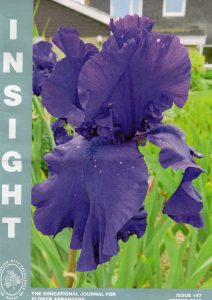 – The Summer issue is packed with ideas, inspiration and information.           Topics covered include:
–  How To: Summer Floral Vase by Graham King, Surrey Area
–  How To: Kyogi Cone Design by Linda Knights, East of England Area
–  How To:  Make the Umbrella by Kath Moore, SAFAS Junior Club
–  Report on the March 2019 Education Conference
–  'Illumination', a Festival of Flowers, Wessex & Jersey Area
–  Not a stalk in sight by Michelle Rigby, Home Counties Area
– Art in the Garden by Sue Davies, Mercia & North Wales Area
– Cool Clematis by Chrissie Harten
–  And much more for you to enjoy!

DO YOU SUBSCRIBE?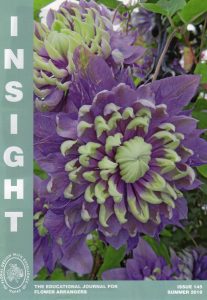 If not, you are missing the following: –
– Ideas for floral designs & crafts
– 'How To' teaching articles
– Superb photos of floral art styles
– Articles on plant conservation
– Places to visit
– Book reviews
– Events in the world of floral education
– Articles on NAFAS National events
– News and events from NAFAS Areas
and much much more, a must for teachers, students and anyone interested in floral art.
Available by subscription only – the subscription year runs from 1 April to 31 March and the magazine is published three times a year – Summer (May), Winter (Sept) and Spring (Feb).  Whatever time of year you subscribe, your subscription will always start with the Summer issue.
Download a subscription form here – Insight Sub form for web 2018
Please visit our online store to view subscription options and prices.
For further information please contact the NAFAS Education Secretary on 0207 247 5567
or email sylvia@nafas.org.uk